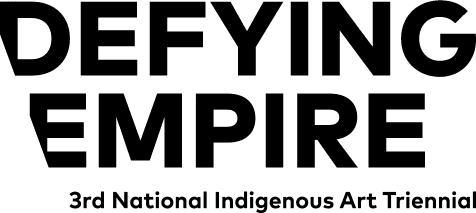 Open 26 May – 10 September 2017
"We defy: By existing; By determining our identity; By asserting our histories; our culture; our language; By telling our stories, our way; By being one of the oldest continuous living cultures in the world."
Tina Baum, NGA Curator of Aboriginal and Torres Strait Islander Art
Defying Empire: 3rd National Indigenous Art Triennial brings the works of 30 contemporary Aboriginal and Torres Strait Islander artists from across the country into the national spotlight.
The 3rd National Indigenous Art Triennial at the National Gallery of Australia commemorates the 50th anniversary of 1967 Referendum that recognised Aboriginal and Torres Strait Islander people as Australians for the first time. It explores the ongoing resilience of Australia's Indigenous people since first contact, through to the historical fight for recognition and ongoing activism in the present day.
Be moved by powerful art that touches on the issues of identity, racism, displacement, country, nuclear testing, sovereignty and the stolen generations through many media: painting on canvas and bark, weaving and sculpture, new media, prints, photography, metalwork and glasswork.
This groundbreaking show is the largest survey yet at the NGA and it highlights the continued excellence and diversity of Indigenous practice today.
Defying Empire will be accompanied by a range of talks, lectures and workshops. See What's on for details.
Defying Empire in the media: NITV news bulletin
This exhibition has been made possible through the generous support of