Carl Andre
United States of America  born 1935
Carl Andre was born in Quincy, Massachusetts, on 16 September 1935. He studied at the Phillips Academy, Andover, between 1951 and 1953. In 1954 he travelled to England and France, returning to serve in the army in 1955–56. He moved to New York in 1957, working for a short time during the summer of 1958 in the studio of the painter Frank Stella, where he made his first large sculptures in wood scavenged from neighbourhood building sites.
Andre planned a series of wooden structures in 1960, the Elements series, but was unable to construct them through lack of money. He spent the next four years working with the Pennsylvania Railroad. In 1964 he showed his work in the exhibition 8 Young Artists at the Hudson River Museum, Yonkers, New York, and the following year contributed to the group show Shape and Structure at the Tibor de Nagy Gallery, New York. Andre's first solo exhibition was held at this gallery two months later. In the exhibition Primary Structures at the Jewish Museum, New York, in 1966, he exhibited Lever[i], a row of 137 bricks that created more controversy than any other work on display. Numerous solo exhibitions followed in the United States and Europe, using bricks, metal plates and wooden modules in regular configurations.
Since the 1960s Andre has been recognised as a principal exponent of Minimalism, along with artists such as Donald Judd, Dan Flavin, Sol LeWitt and Robert Morris. In 1970 Andre held a major retrospective exhibition at the Solomon R. Guggenheim Museum, New York. The Kunsthalle in Berne mounted an important exhibition of his work in 1975. A solo exhibition of Andre's work was held at the Haags Gemeentemuseum, The Hague, and the Stedelijk van Abbemuseum, Eindhoven, in 1987. Recent surveys of Andre's work have been held at the Haus Lange and Haus Esters, Krefeld, and Kunstmuseum, Wolfsburg, in 1996, which toured to the Museum of Modern Art Oxford that year, and to the Musée Cantini, Marseilles, in 1997. Andre lives and works in New York.
---
[i] National Gallery of Canada, Ottawa
See more works by this artist in the NGA collection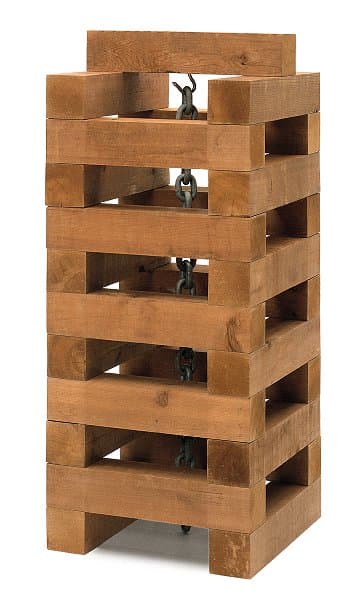 Carl Andre Chain well 1964 © Carl Andre. VAGA/Copyright Agency Purchased 1979 Learn more