Donald Judd
United States of America  1928–1994
Donald Judd was born at Excelsior Springs, Missouri, on 3 June 1928. He studied philosophy and art history at the Art Students League, New York, in 1947–48 and 1950 to 1953, and at Columbia University from 1949 until 1953 and 1957 to 1962. His training encompassed art theory as well as the practice of painting and sculpture. Judd's first solo exhibition, of paintings, was in 1957 at the Panoras Gallery, New York. From 1959 to 1965 he wrote for journals such as Arts Magazine and championed the work of fellow artists such as Claes Oldenburg, Frank Stella, John Chamberlain and Dan Flavin. During this period he abandoned painting to devote himself to sculpture – or 'the object' – and his first such exhibition was held at the Green Gallery, New York, in 1963. He elaborated his theories in an influential article, 'Specific Objects', first published in the Arts Yearbook in 1965.
The serial, industrially-produced works for which Judd is best known were made from the mid-1960s onwards, and today he is credited with transforming sculpture. In his 1966 exhibition at Leo Castelli Gallery, New York – the first of a long series of solo shows – Judd presented pieces made of metal, solid or hollow box units, precise forms stacked up the wall. In 1968 Judd's work was recognised in a large exhibition organised by the Whitney Museum of American Art, New York. He participated in the Kassel Documentas of 1968, 1977 and 1982, and in his first Venice Biennale in 1980. Subsequent exhibitions were held at the Pasadena Museum in 1971 and at the National Gallery of Canada, Ottawa, in 1975; the latter coincided with the publication of a catalogue raisonné of his paintings, objects and woodblocks from 1960 to 1974.
In the 1970s Judd started to work on a larger scale, gradually creating an open-air museum around his studio at Marfa, Texas. The artist's Chinati Foundation opened in 1986 and remains open to the public. Judd's large body of theoretical writing, published throughout his lifetime, was consolidated in two volumes in 1975 and 1987. In 1984 he also began applying his sculptural principles to simple furniture, modular and editioned pieces produced in a range of colours. In 1987 an exhibition of Judd's work, organised by the Stedelijk Van Abbemuseum, Eindhoven, toured to Düsseldorf, Paris, Barcelona, and Turin. The Whitney's retrospective also travelled to Dallas during 1988–89. Judd died in New York on 12 February 1994.
See more works by this artist in the NGA collection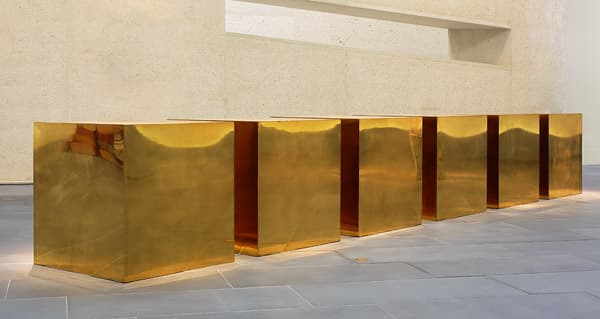 Donald Judd Untitled 1974 © Donald Judd. VAGA/Copyright Agency Purchased 1975 Learn more