Robert Rauschenberg
United States of America  1925–2008
Robert Rauschenberg was born in Port Arthur, Texas in 1925. After a brief period at the University of Texas studying pharmacology he served in the U.S. Navy during World War Two. He attended the Kansas City Art Institute from 1947 to1948, with a period at the Académie Julian in Paris in 1947. From 1948 he then studied under Josef Albers at Black Mountain College in North Carolina. He then moved to New York to attend the Art Students League in 1949.
Rauschenberg has experimented with various art forms throughout his career. During the 1950s Rauschenberg designed windows for department stores while continuing to paint and experiment with blueprints. His early works included white paintings, black paintings, and sculptures using materials such as wood, rocks and rope. He held his first one-man show at Betty Parsons Gallery in 1951. In 1953 he produced his first Combines in which found objects were incorporated into his paintings. From the 1960s Rauschenberg worked in many workshops, including Gemini G.E.L. from 1967, Universal Limited Art Editions and Pyramid Arts, Ltd. making experimental prints using lithography and screenprinting techniques. While his art is so diverse that it eludes categorisation in any movement, Rauschenberg provides a link between Abstract Expressionism and Pop Art.
Rauschenberg has had numerous solo and group exhibitions at major museums. His earliest group exhibition was Abstraction in Photography, at the Museum of Modern Art, New York in 1951. In 1968 the Stedelijk Museum, Amsterdam, showed Robert Rauschenberg which covered art from 1949-68 which also travelled to Paris and Cologne. The Smithsonian Institution, Washington D.C, organised an important show in 1976 which travelled to other large museums around the country. In 1980 the Staatliche Kunsthalle, Berlin, showed Rauschenberg: Werke 1950-1980. In 1995 a major retrospective of Rauschenberg's sculpture was held at the Modern Art Museum, Fort Worth. Another retrospective exhibition was organised by the Guggenheim Museum, New York, in 1998. Rauschenberg lived and worked in New York, before his death on 12 May 2008 in Captiva, Florida.
See more works by this artist in the NGA collection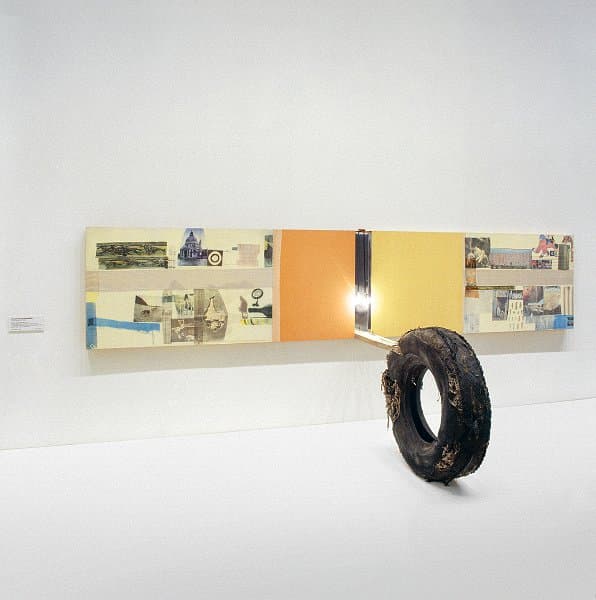 Robert Rauschenberg Albino cactus (scale) 1977 © Robert Rauschenberg. VAGA/Copyright Agency Purchased 1978 Learn more