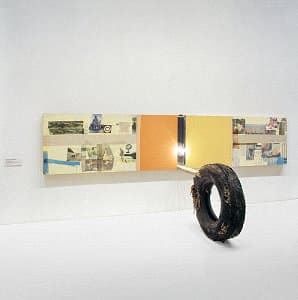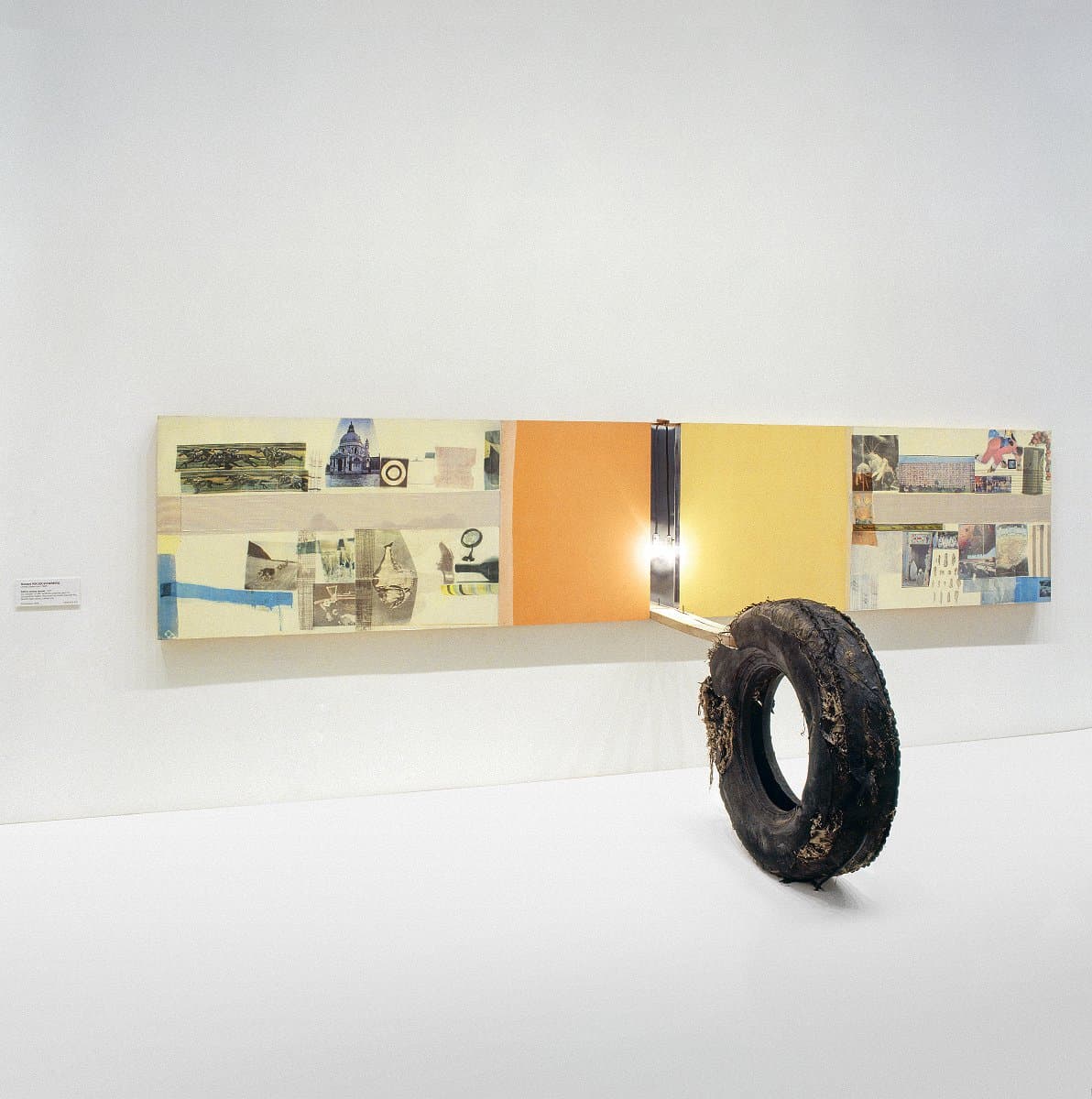 Robert Rauschenberg
Learn more
Albino cactus (scale) 1977
© Robert Rauschenberg. VAGA/Copyright Agency Purchased 1978
More detail | Permalink
Throughout his career Robert Rauschenberg has experimented with various art forms. During the 1950s he designed windows for department stores while continuing to paint and experiment with blueprints. His early works included white paintings, black paintings and sculptures using materials such as wood, rocks and rope. In 1953 he produced his first Combines, in which found objects were incorporated into his paintings. From the 1960s he made experimental prints using lithography and screenprinting techniques. While his art is so diverse that it eludes categorisation in any movement, Rauschenberg provides a link between Abstract Expressionism and Pop art.
Albino cactus (scale) is one of a series of sculptures, Scale, produced by Rauschenberg between 1977 and 1981. He transferred images from magazines and newspapers, affixing them to large wood or foam-core panels, often with additional objects or electric lights attached. Following the direction indicated by Rodeo Palace 1975–76, a three-door collage, Rauschenberg produced several extensive summarising works, as if retracting to the spareness and nonchalance of the Jammers 1975–79, a series of large, bold fabric works. Joan Young proposes that this phase in his work draws on features from his earlier career such as the Combine paintings of the 1950s, perhaps prompted by the major retrospective of his work organised by the Smithsonian Institution, Washington DC, in 1976.[1] All the works in the Scale series assume a more sculptural form, some freestanding while others―such as Albino cactus―are mounted on the wall with larger objects protruding from their surfaces. The series recalls the use of found imagery in Rauschenberg's screenprinted paintings and transfer drawings.
Albino cactus evokes the early Combines, uniting two- and three-dimensional objects. Tyres were also used in the early Combine works, and recur elsewhere in Rauschenberg's oeuvre. The configuration of the tyre jutting from the coloured panels evokes life in the city, both in its human scale and because of the inclusion of such homely artefacts as a light bulb and bright fabrics. Between November 1976 and March 1977, Rauschenberg visited the exhibition Treasures of Tutankhamun at the National Gallery of Art, Washington DC, which he later acknowledged as having a significant impact on the Scale series:
I was so moved by it I was afraid I'd never be able to paint again―so I went to Florida and started right in … Seeing the Tut show was very close, for me, to the surprise of walking down a New York street … to me it was as foreign and titillating as walking in New York and seeing the changes―the marvelous catalogue of trash.[2]
While Rauschenberg intended found objects in his works to produce new and unlikely associations, he rejects allegorical interpretations. When looking at Albino cactus nonetheless, one can imagine walking or perhaps driving through New York City, with its collection of colour and trash being the beauty of the experience.
Madeleine McClelland
---
[1] Joan Young, 'Large scale paintings and sculpture, 1975 to the present', in Robert Rauschenberg: A retrospective, Guggenheim Museum, New York, 1998, p 392.
[2] As above, p 574.
This is one of the Scale series of sculptures produced by Rauschenberg between 1977 and 1981 in which he incorporated transferred and screen-printed images, as well as found objects, to produce new and unlikely associations. Here, the tyre projecting from the coloured panels may recall life in a city, crowded with colourful lights and litter. Albino cactus (scale) merges the realms of kitsch and fine art, a reflection on a contemporary society permeated by popular media and mass-produced goods.