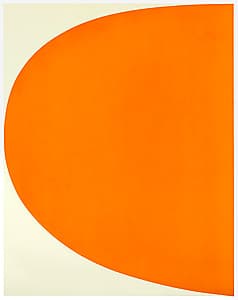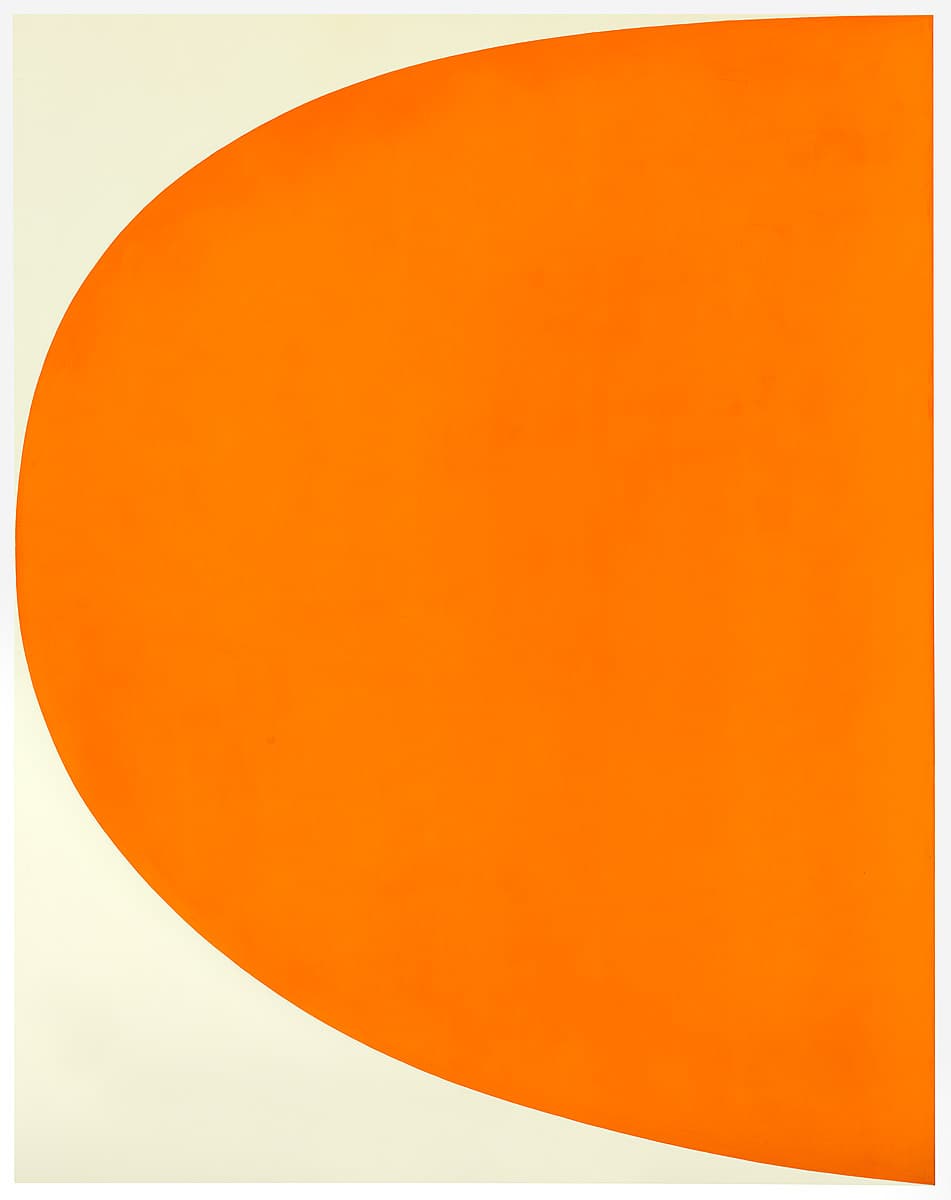 Ellsworth Kelly
Learn more
Orange Curve 1964-65
© Ellsworth Kelly Purchased 1977
More detail | Permalink
Ellsworth Kelly's studies in Paris between 1948 and 1954 put him in contact with a number of established European artists whose example was influential in the direction of his work. These included Jean Arp, Constantin Brancusi and Georges Vantongerloo, the painter-sculptor and founding member of the De Stijl group. During this period Kelly defined the basic ingredients for a boldly-coloured, geometric abstraction that would be more fully developed on his return to the United States.
Referring to the work he did from 1954–65, Kelly stated that 'the salient feature of my painting at that time was a large curved form that squeezed the ground to the edge of the canvas'.[1] This is an apt description of Orange curve 1964–65 with its swelling orange-coloured egg shape encroaching into the subtly off-white field of the rectangular support.[2] The interaction of this assertive form against the ground evident in Orange curve is indicative of a number of Kelly's paintings completed around this time. Each variation, for example the closely-related Orange green 1964,[3] employs one or two often curvilinear forms of different sizes and proportions. The paintings are limited to one or two colours, so as to explore the interaction between these forms and the space around the forms―the fundamental figure/ground relationship. Kelly conscientiously investigated the impact of change in the many variations of these 'simple' compositions, before his return in 1965 to multi-panel, monochrome and shaped canvases.[4]
Michael Lloyd and Michael Desmond[5]
---
[1] Quoted in 'Ellsworth Kelly', in Colin Naylor (ed), Contemporary artists, St James Press, Chicago, 1989, pp 485–6.
[2] Orange curve 1964–65 is signed and dated verso upper right, in ballpoint pen, 'EK 1963'; however the artist has advised the NGA that the correct dating of the work is 1964–65 and the inscription is incorrect. Margo H Leavin, correspondence with the Gallery, 12 June 1985. The artist advised the NGA in July 2003 that he wished the title to be changed to Orange curve, to correspond with other similar paintings from the same period; see NGA file 81/0943, f 93.
[3] Private collection, New York.
[4] See, for example, Blue green yellow orange red 1966, Guggenheim Museum, New York, exhibited in Systemic painting at the Guggenheim in 1966.
[5] Adapted and updated from European and American Paintings and Sculptures 1870–1970 in the Australian National Gallery, Australian National Gallery, Canberra, 1992, p 348, by Steven Tonkin and Lucina Ward.
Confronted by the large orange convex, Kelly's work invites us to experience the dynamic relationship between shape, form and colour. The artist emphasised the visual sensation and bodily interaction of the viewer with his paintings. Kelly's works are limited to one or two colours in order to explore the interaction between form and ground, ultimately embracing, yet at the same time obscuring, the flatness of the canvas.