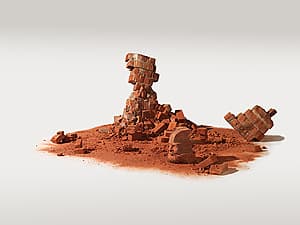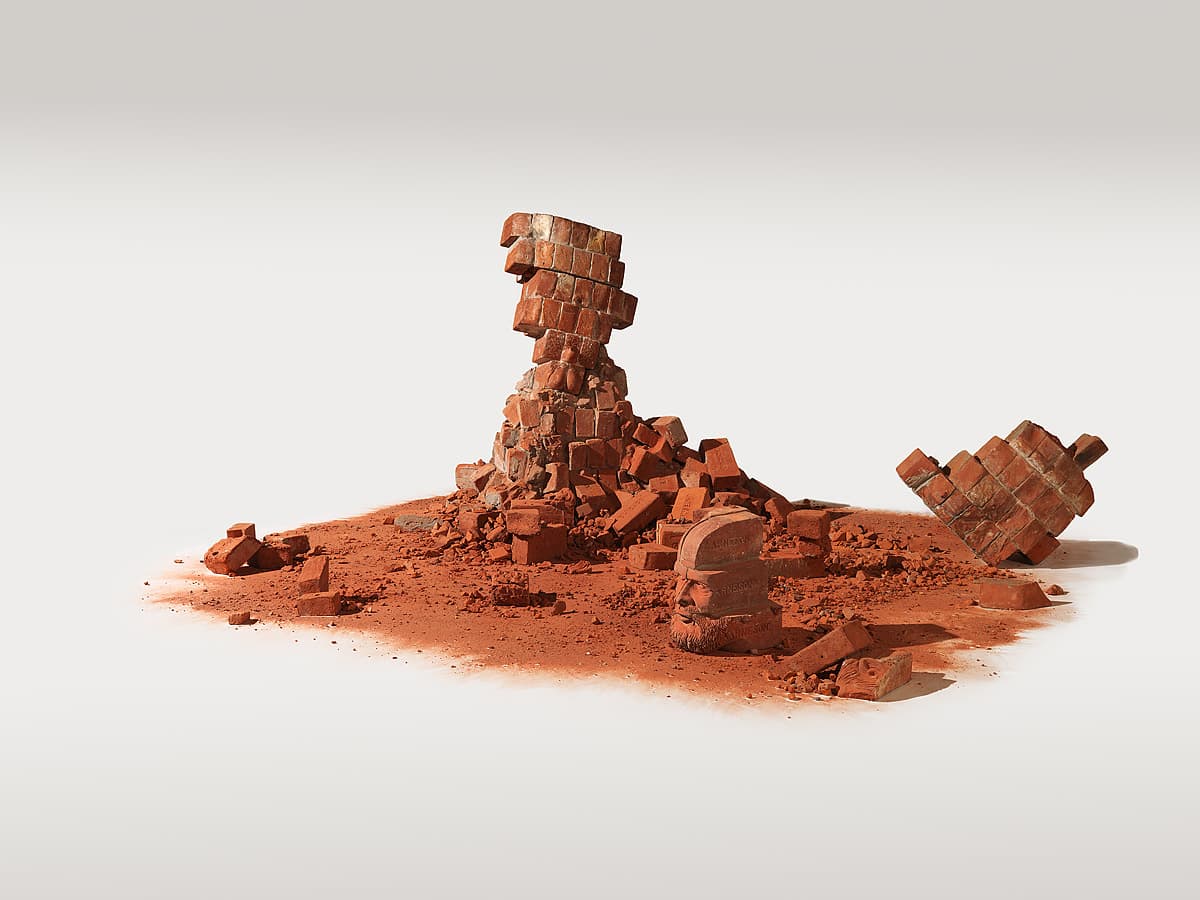 Robert Arneson
Learn more
Fragment of Western civilization 1972
© Robert Arneson. VAGA/Copyright Agency Purchased 1978
More detail | Permalink
During the 1970s Robert Arneson worked mainly in portraiture, creating witty, larger-than-life likenesses of himself, his friends and the artists he admired. Fragment of Western civilization 1972 is not only the largest and most elaborate of the 18 self-portraits completed in 1971–72, it establishes his paradoxical relationship with tradition. The modular terracotta sculpture also articulates Arneson's approach to caricature: the humour is layered and underpinned by an irreverent and satirical intelligence. Indeed humour, and specifically self-deprecation, are an important part of the artist's creative process.
Fragment of Western civilization relates to another work of the same year, Classical exposure 1972, as well as a later work, Temple of fatal laffs 1989.[1] In the earlier work the artist is shown as a classical herm, with both genitals and feet emerging from the column, smoking a cigar. In the latter, his disembodied and misshapen head, mouth wide in an expression of pain, topples to the side of a fluted column. Fragment of Western civilization, by contrast, is intended to rest directly onto the floor. Initially the work appears to be a pile of building debris, or part of brick wall, but on closer inspection a fragmented relief self-portrait is revealed.
Bricks have a rich history as a fundamental component of Western cultures, and are important to the legacy of ceramics. There is a suggestion of archaeological excavations, of the Parthenon friezes and Greek sculpture generally, as well as Romantic visions of history and civilisations in decline. These references to the past are an important aspect of Fragment of Western civilization, but imitating tradition was not Arneson's sole intention:
I had been doing series of bricks for years and there was a concept there of building an edifice that would be of laminated bricks in my likeness. When I got halfway through Fragment, I decided that I ought to bring in the hoards of conquerors to dispose of the edifice. There's the yin and yang in that—you build an edifice and then you knock it down.[2]
The form of the work has been radically altered. By making a sculpture and then partially destroying it, Arneson has also changed the meaning of the work, and this process is emblematic of his attitude to tradition. Although such iconoclasm stems from his determination to overcome the view of ceramics as a decorative, intellectually impoverished and non-critical medium, it is also linked to a Funk irreverence for conventional standards of taste. The overt sexuality and scatology in Arneson's work originated in the mid 1960s and, like Marcel Duchamp's readymades or Claes Oldenburg's soft sculptures, is calculated to surprise and shock.[3]
Arneson's description of Classical exposure as 'A portrait of the artist exhibiting himself'[4] applies equally to Fragment of Western civilization. However, the exposure here is of a larger kind: in attempting to surmount his 'burdensome' heritage as a ceramicist, Arneson helped to redefine the medium as one suitable for sculpture. He also laid siege to the idea of the artist as a creative hero: not only has his edifice to himself and tradition been demolished, it suffers the inevitable indignity of being covered in graffiti.[5]
Lucina Ward

---
[1] Classical exposure 1972, Daniel Fendrick Family Collection; Temple of fatal laffs 1989, Contemporary Museum, Honolulu.
[2] Quoted in Civilizations, John Michael Kohler Arts Center, Sheboygan, Wisconsin, 1977, p 12; Neal Benezra, Robert Arneson: A retrospective, Des Moines Art Center, Iowa, 1985, p 38.
[3] Arneson's most extreme works from this period—the John series 1963–65, which includes penile handles, red clitoral drains, ceramic pustules and excrement in generous quantities—were the ceramic equivalent of Duchamp's Fountain 1917 or Oldenburg's Soft toilet 1966.
[4] Mady Jones, An interview with Robert Arneson, Archives of American Art, Smithsonian Institution, California Oral History Project, August 1981, p 99.
[5] Incised into each brick is 'Arneson' (most frequently) or 'Robert', 'Arnie', 'Bobby' or 'Bob', date incised upper centre of left side of head section '1972', other bricks incised variously 'Ceramist', 'Clay', 'Brick', 'Benicia', '9-4-1930', 'Fuck', 'Fire', 'Earth', 'Trick', 'Prick', 'Art works', 'Funk', 'Virgo', 'Museum', 'Chicago', incised on side of one brick 'I was born on / September 4 1930 / at 4.28 a.m. in / Benicia California'.
What appears initially to be a pile of building debris or a collapsed brick wall turns out on closer inspection to be a fragmented self-portrait. Arneson worked mainly in portraiture during the 1970s, and this is the largest and most elaborate of his self-portraits. It demonstrates the artist's approach to caricature and humour. By making a sculpture, then partially destroying it, Arneson demonstrates his desire to break free from the rigid views and material conventions of ceramics, as well as to challenge notions of taste.