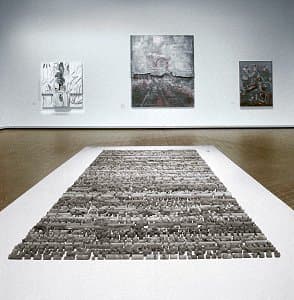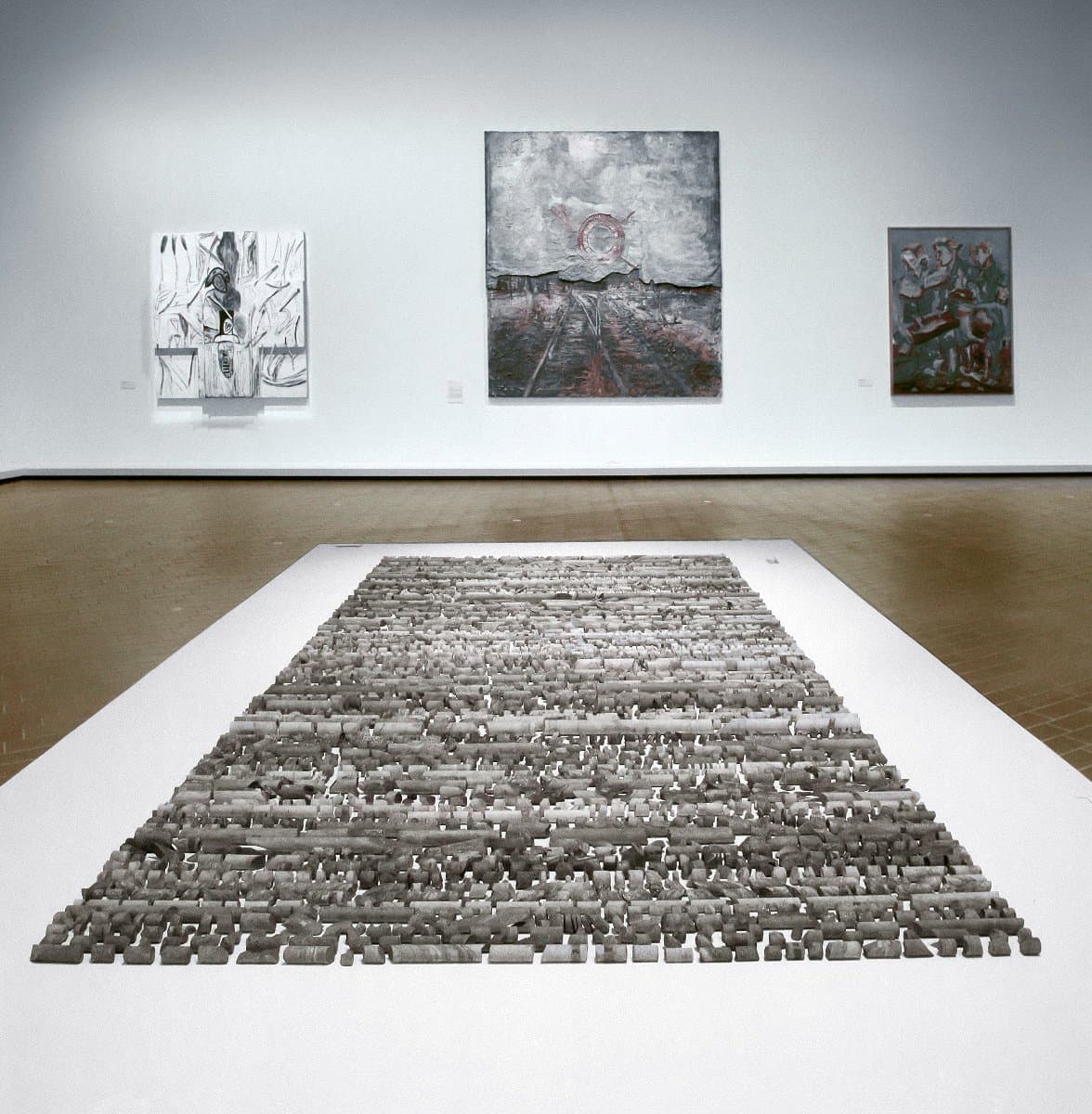 Alan Sonfist
Learn more
Earth monument to New York -1979
Purchased 1980
More detail | Permalink
Alan Sonfist is recognised as one of the leading figures of the Land art movement. Unlike the monumental 'interventionist' works by artists such as Robert Smithson, Sonfist's approach is more concerned with minimal disruption of the natural environment: he is as much a conservationist or natural historian as a land or environmental artist. Indeed, this environmental consciousness is rooted in his childhood fascination with nature and, in particular, a hemlock forest in the South Bronx, New York, where Sonfist spent much of his youth.
Earth monument to New York 1979 is a work that presents a summation of two decades of the artist's practice. Sonfist collected core samples of stratified stone that were drilled from between 1.5 and 40 metres below ground level in different locations across New York City. When installed, these core samples are laid out on the floor in a specified order, 109 rows in all, within a predefined rectangular 'frame'. The order reflects the increasing depth from which they were extracted—the texture of the stone providing a gradation of millions of years of the earth's history. While the work is a 'monument' to the specific earth strata beneath New York City, it nevertheless presents a universal statement of the minute duration of human civilisation in comparison to that of the earth upon which it is built.
The artist consciously blurs the boundaries between his own life and the manifestation of his work, seeing them as inextricably interconnected.[1] His autobiographical approach means that the dating does not indicate the time of production but rather a sequence towards realisation.[2] The NGA has dated Earth monument to New York according to the year it was first exhibited in its 'completed' form at Marian Goodman Gallery, New York, in 1979. The artist, on the other hand, sees all his work as dating from 1946, the year of his birth. He wanted his first solo exhibition in 1970 to be titled as a 'retrospective', indicating that even though it was his first exhibition recognised by the 'art world', it was nevertheless a compendium of his life and work up to that point. Sonfist previously dated Earth monument to New York from 1965—the year of its conceptual beginnings in the artist's 'land exchange' between Macomb in Illinois and Levittown, Long Island, undertaken while he was a student at Western Illinois University in 1965. The artist also included parts, or fragments, of the earth core samples in Earth monument to New York in three exhibitions prior to its completion.
When asked by one commentator about the role of museums in preserving objects from changes wrought by time and the apparent conflict with the artist's own preoccupation with time and change, Sonfist described how placement in a museum can make people look anew at familiar objects. His work therefore functions to highlight this intent: 'I am trying to bring forth meaningful metaphors [to show] we are one of many internal structures that exist in nature, and this is something that people can observe and study.'[3]
Steven Tonkin
---
[1] Alan Sonfist, 'Statement', in 'Alan Sonfist', Flash Art, nos 50–51, December 1974–January 1975, p 46.
[2] Lawrence Alloway, 'Introduction', in Autobiography of Alan Sonfist, Herbert F Johnson Museum of Art, Cornell University, Ithaca, 1975, np.
[3]  Alan Sonfist, quoted in 'Interview with the artist', in Alan Sonfist / Trees, Smithsonian Institution Press, Washington DC, 1978, np.
Sonfist creates work that makes visible the unseen structures and processes of natural materials and the environment. The Earth monument is composed of core samples of stratified stone drilled from between 1.5 and 40 metres below ground level across New York City. Sonfist's work investigates humanity's interaction with nature: 'My feeling is that if we are going to live within a city, we have to create an understanding of the land … We have to come to a better understanding of who we are and how we exist on the planet.