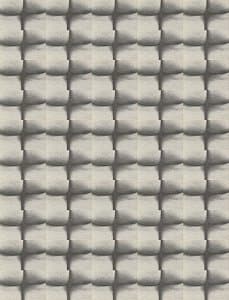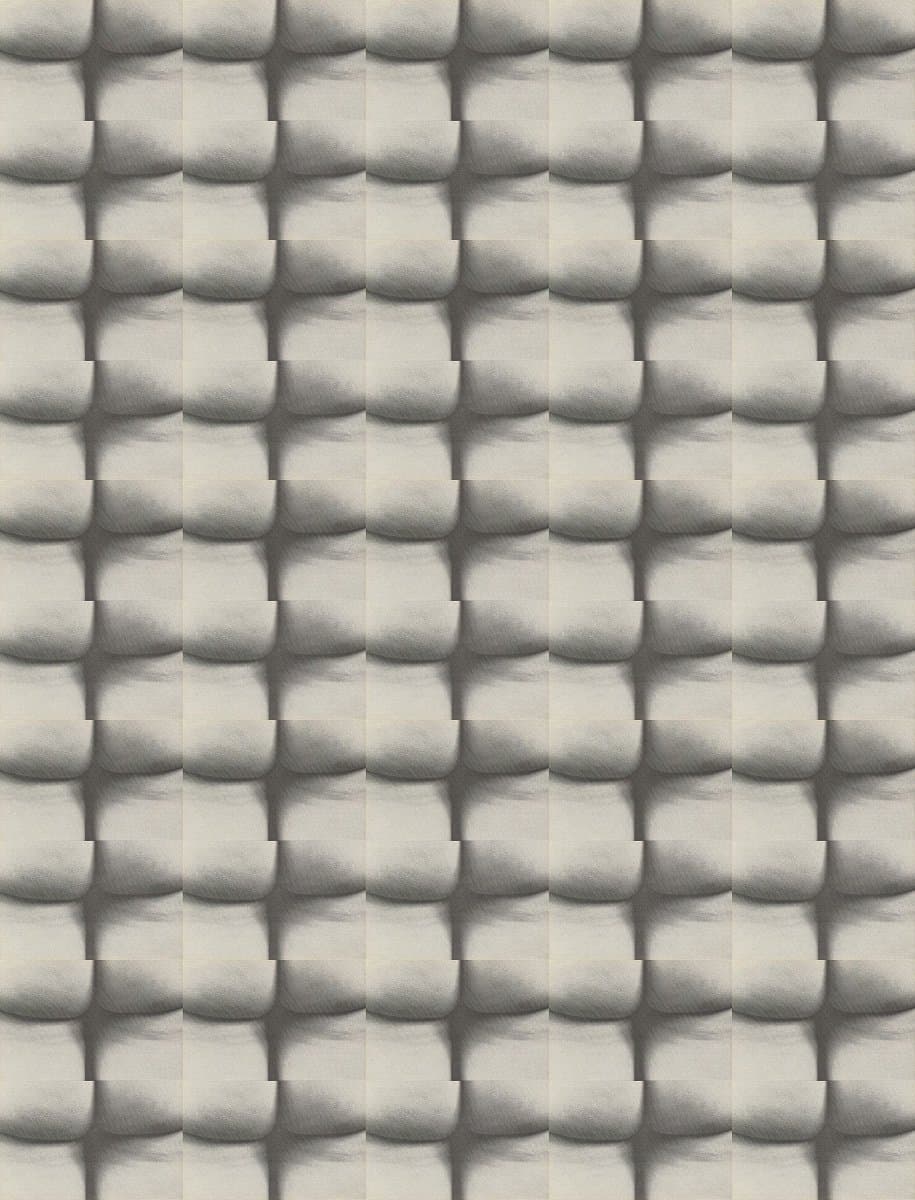 Yoko Ono
Learn more
Fluxus wallpaper; after Film No. 4, 1967 c. 1973
Gift of Alan R Dodge and Gilbert Silverman 1993
More detail | Permalink
Yoko Ono's script for her third film FILM NO. 4 1966 reads, 'String bottoms together in place of signatures for petition for peace'.[1] It was made in her New York apartment in 1966 and featured the bare bottoms of 15 people, mostly friends—artists and composers, and possibly Anthony Cox, her husband at the time, and Ono herself. It showed the bottoms rhythmically moving as the participants walked on a circular treadmill. A second iteration was made in London in 1967 featuring 365 bottoms (one for each day of the year, though the cast was more like 100) and accompanied by a soundtrack of the participants and Ono talking about the project—with a bit of giggling—making clear, as curator Chrissie Iles has written, that these films were social, not erotic, events.[2] Despite this, and testament to the transgressive nature of the work—as getting nude was symbolic of the social revolution put forward by Ono and her generation—it was banned by the UK censors before being granted an X rating and screened in cinemas.  
The year FILM NO. 4  was originally made was a big one for Ono. She took part in the landmark Destruction in Art Symposium in London in September 1966 and her subsequent exhibition at Indica Gallery in November cemented her reputation internationally as a leading avant-garde artist. The original first FILM NO. 4 FOUR was actually called Fluxfilm no 16. Fluxus was a loosely tied together group of artists, poets, filmmakers, composers and musicians working across country boundaries and media. Ono came to be associated with Fluxus though her practice also predated her involvement. She has continued to work broadly across media, sculptural and performative work, through to voice, music and the conceptual. The overarching intention of the works is that she seeks always to involve and empower the audience, to jolt it out of a passive complacency.
Ono felt that the film was as much about movement and 'a certain beat' as it was about bottoms—'the closest thing to the heartbeat'. Its radical political intent is clear, a protest against war, through irreverent humour, 'an aimless petition signed by people with their anuses'.[3] In 1973 George Maciunas, founding member of Fluxus and its central co-ordinator, re-imagined the motif as wallpaper, using a still from the first film and replicating the rhythmic movement of the original through repetition. The bottom lithographs were available as part of the publication Fluxpack 3 (1973–75), which consisted of works on paper and vinyl in poster tubes.[4] Part of Fluxus' manifesto was to promote art as democratic and, in an anti-art-establishment strategy, Fluxus art was sold in Fluxshops in New York and across Europe, and later California and Japan. Visitors to the shops could buy cheap multiples made en masse, often by Maciunus himself.
Anne O'Hehir
---
[1] Madeline Bocaro, 'Getting to the bottom of Yoko Ono's Film – No, FOUR', at  https://madelinex.blogspot.com/2016/07/getting-to-bottom-of-yoko-onos-film-no.html, accessed 2 February 2018, and subsequent statements by Ono.
[2] Chrissie Ilse, 'Frame by frame: the films of Yoko Ono', Yoko Ono: To the light, Serpentine Gallery, London, p 62.
[3] Ono quoted in Bocaro, np.
[4] Gwen Allen, Artists' magazines: An alternative space for art, MIT Press, Massachusetts, 2011, p 261. The bottom lithographs were miscredited to French artist Ben Vautier. Fluxpack 3 consisted of multiples by Ono and four other Fluxus artists.
The still image used for this wallpaper is from Yoko Ono's FILM NO. 4 1966, which featured the bare bottoms of 15 people, conceived as a protest against war: the script reads 'String bottoms together in place of signatures for petition for peace.' Maciunas re-imagined the bottom motif as wallpaper, replicating the rhythmic movement of the original. The wallpaper was sold in Fluxshops in America and across Europe and Japan, part of Fluxus' democratic and anti-art practice challenging the authority of institutions.