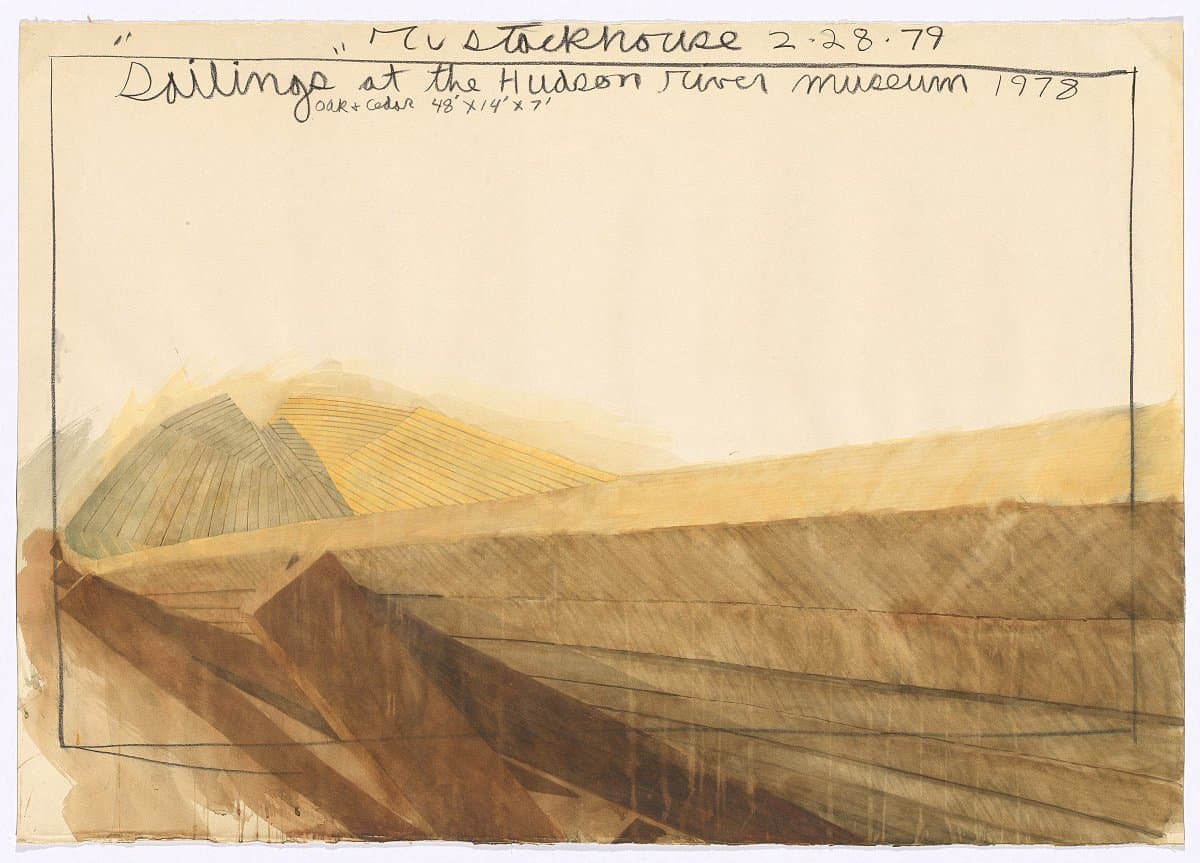 Robert Stackhouse
Learn more
Sailings; drawing of the sculpture 'Sailings', constructed at the Hudson River Museum, NY, 1978 1979
Purchased 1983
More detail | Permalink
Sculptor Robert Stackhouse creates large-scale works modelled on the structures of wooden boats, which are designed to sit within specific landscapes and environments, parklands and gardens. An essential part of his sculptural practice is drawing. He makes preliminary working drawings for proposed sculptures, schematic drawings for construction and finished drawings of his completed sculptures. Both the preliminary and finished drawings are carefully considered in their scale, painterly style and execution. Functioning as part of the concept and documentation of the sculptor's working method, Stackhouse's watercolour, pencil and charcoal drawings are equally implicit expressions of the artist's ongoing adherence to a notion of hands-on making and craftsmanship. Signed and dated, they were designed to be viewed as works of art in their own right, and as such were exhibited and collected along with or independently from the large site-specific sculptures they directly relate to—the four drawings acquired by the Gallery prior to the commissioning of the sculpture On the beach again in 1983 all directly relate to sculptures made between 1978 and 1980, which were installed in the grounds of cultural institutions in New York and Wisconsin.[1]
Due largely to the number of significant artists whose practices contributed to the fields of Minimalism, Land and Conceptual art from the mid 1960s, the working, schematic and finished drawings of sculptors became the subject of special collection areas of interest for international art museums and galleries from the 1970s. In a concerted effort to build such a group of works for the Gallery, from 1972 drawings for sculptures, installations and earthworks by artists such as Stackhouse, Christo, Robert Smithson, Carl Andre, Robert Morris, Richard Long and Michael Singer were actively sought and acquired. It was in this context that the drawings Eau Claire sailings 1979 and Two pale ships passing 1980 were purchased from the artist's dealer Max Hutchinson in New York in 1982. Two more drawings, both titled Sailings, were added to the group in 1983.[2] Stackhouse's drawings form a significant part of the artist's working practice while concurrently recording his creative process and work from the late 1970s, but equally they belong to a larger group that signify fundamental changes to international artist's working methods—and in turn institutional collecting practices—which occurred from the 1960s.
Sally Foster
---
[1] See chapter 5, 'New York and Washington', in J Richard Gruber, Stackhouse, Morris Museum of Art, Augusta, 1999, pp 75–105.
[2] Purchased following the 1983 exhibition Robert Stackhouse: watercolour, drawing, sculpture at the Max Hutchinson Gallery, New York.
Sculptor Robert Stackhouse creates large-scale works modelled on the structures of wooden boats, which are designed to sit within specific landscapes and environments, parklands and gardens. An essential part of his sculptural practice is drawing. He makes preliminary working drawings for proposed sculptures, schematic drawings for construction and finished drawings of his completed sculptures. Both the preliminary and finished drawings are carefully considered in their scale, painterly style and execution. Functioning as part of the concept and documentation of the sculptor's working method, Stackhouse's watercolour, pencil and charcoal drawings are equally implicit expressions of the artist's ongoing adherence to a notion of hands-on making and craftsmanship. Signed and dated, they were designed to be viewed as works of art in their own right,