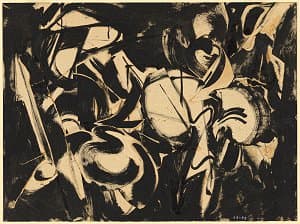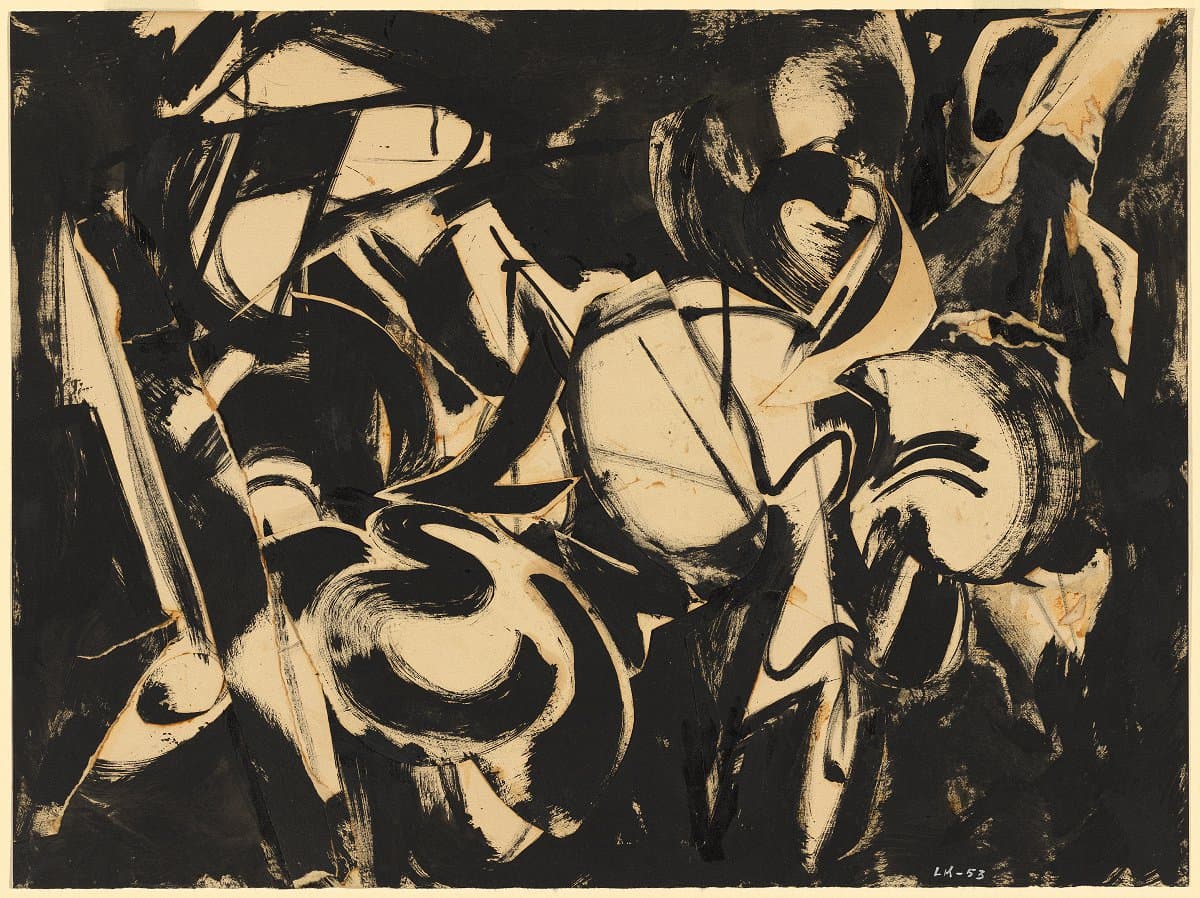 Lee Krasner
Learn more
Untitled 1953
© Lee Krasner. ARS/Copyright Agency Purchased 1983
More detail | Permalink
From 1937 until 1940 Lee Krasner attended classes at the Hans Hofmann School of Fine Arts, New York. She joined the American Abstract Artists group in 1940 and exhibited for the first time in their fourth annual exhibition in New York that year. Between the late 1940s and the mid 50s, Krasner's work went through several experimental and transitional phases. In her painted canvases of the late 1940s, known as the 'Little pictures', her surfaces were comprised of small, geometric and hieroglyphic elements applied in thick multicoloured paint. By 1950 Krasner had returned to a semi-figurative mode—a brief yet incongruous manoeuvre that resulted in an unsuccessful exhibition at the Betty Parsons Gallery in 1951.
Harnessing this disappointment as impetus for change, Krasner turned to collage and, in stark contrast to her coloured canvases, produced a series of black-and-white works composed of segments of cut paper pasted on top of pre-existing drawings. The artist remembered: 'In 1953, I started tearing up drawings, which led to collaging, and then I went into some of these canvases that had been sitting there a long time and nothing happening with them and I collaged some of these as well.'[1]
Untitled 1953 reveals a dramatically stripped-back palette and a sophisticated loosening of form. Krasner has allowed space and air to settle within the compositional activity, perhaps as a metaphorical exhale from the intensity of the works of the previous decade. The surface of Untitled is a complex combination of a base drawing executed in black oil paint applied directly onto the paper, over which several recycled pieces have been adhered. The composite surface that results is a tangle of solid black and dry scraped brushstrokes of frenetic drags, pulls and abrupt arcs, periodically sliced into sections by the sharp edges of cut paper.
The collage works of 1953 preceded a sustained period of work in this medium and numerous examples were exhibited, to critical admiration, in 1955 at the Stable Gallery, New York. Looking back on Krasner's collage work, art critic Clement Greenberg commented that, in employing this technique, Krasner had made a major contribution to the progression of Abstract Expressionism at the time.[2] Collage became a particularly dynamic medium for the artist and she would often return to it in order to reinvigorate her processes after periods of creative pause. Through the destruction and 'cannibalisation' of her earlier works, Krasner was not only symbolically breaking with the past, but abruptly forcing herself to take a new direction. Indicative of a successful stylistic modification, the collage works from this period can be seen to inform the canvases that Krasner was to produce over the next few years.
Jaklyn Babington
---
[1] Letter from the artist, NGA file 78:0059, f 127.
[2] Ellen G Landau, Lee Krasner: A catalogue raisonné, Harry N Abrams, New York, 1995, p 146.
In the 1950s Krasner began to reuse and 'cannibalise' her earlier works. She produced a series of black-and-white collages composed of cut pieces of drawings and canvases pasted on top of pre-existing drawings. By disintegrating her earlier works, Krasner was both symbolically breaking with the past and forcing herself to take a new direction. Her collage works later informed the painting that she produced over the following years.