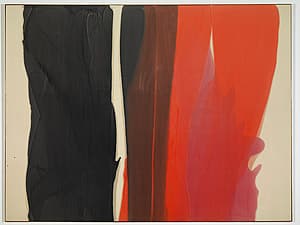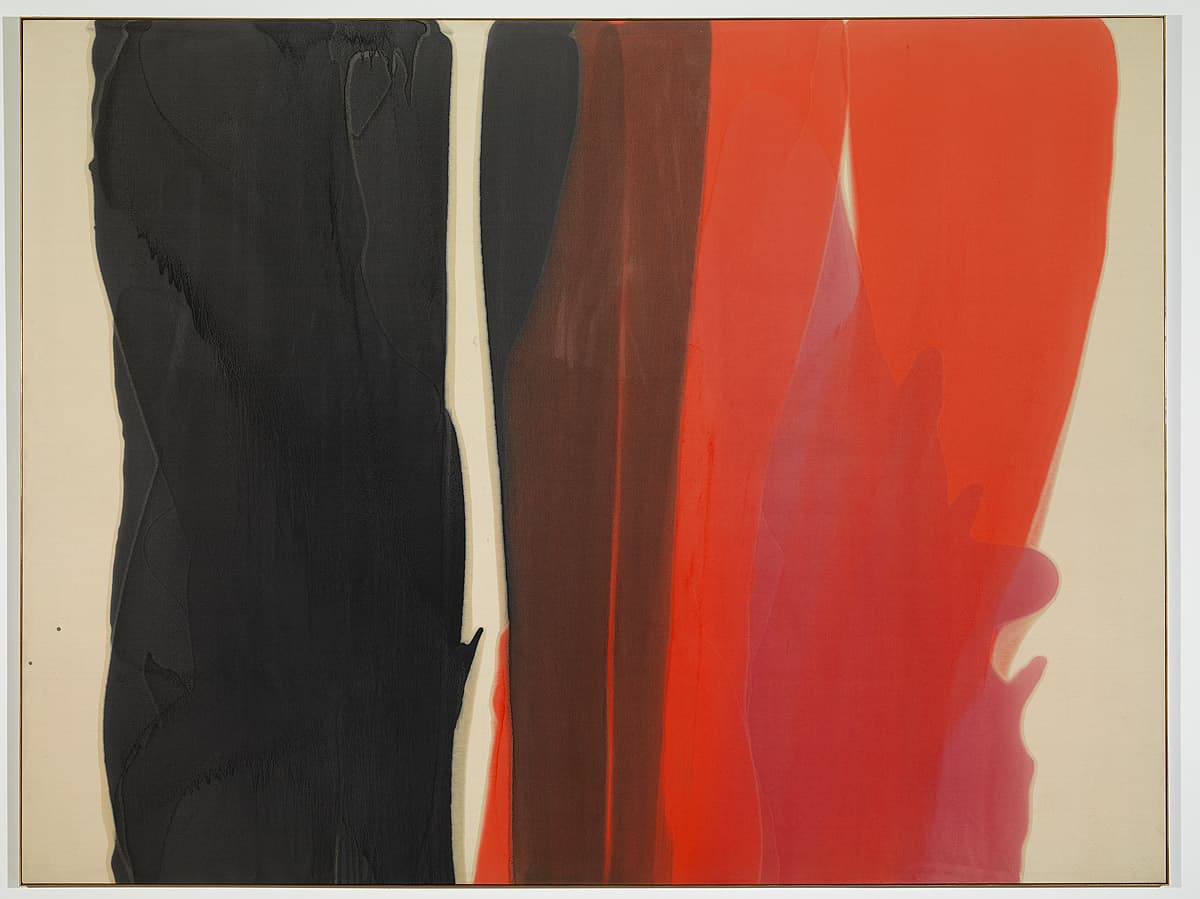 Morris Louis
Learn more
Dalet zayin 1959
© 1959 Morris Louis Purchased 1974
More detail | Permalink
The introduction of Morris Louis and Kenneth Noland to painter Helen Frankenthaler in 1953, arranged by art critic Clement Greenberg, is an event written into Modernist folklore. Seeing Frankenthaler's soak-stained paintings prompted Louis to destroy almost all his earlier work and began anew: it was the catalyst for him to develop the 'staining' technique with which his work is synonymous.[1] Dalet zayin 1959 is one of a group of paintings known as Veils begun in 1954, when Louis was experimenting with staining unprimed canvas; he produced another 130 paintings in the series between 1957 and 1960. The exact dating of the Veils paintings within this sequence is problematic, as most were not dated by the artist and remained unstretched and unexhibited.[2] Famously private, Louis left no photographs of himself at work, and there were no witnesses to his technique.
In Dalet zayin the areas of black, brown, orange and pink seem to spill out, in layers, across the horizontal axis of the canvas. The painting is a fine example of the watercolour-like effects achieved by Louis. The use of Magna, a formula of acrylic developed from the early 1940s by paint manufacturer Leonard Bocour, which Louis thinned with turpentine, is crucial to the effects.[3] Until 1947 he worked with oils—in a broad, impasto style reminiscent of Jackson Pollock, Willem de Kooning and other first generation Abstract Expressionists—before turning to acrylic, originally on primed linen. He worked in the dining room of his suburban Washington DC home, and there, in a space that measured 4.27 x 2.74 metres, invented a technique of staining his canvases, which were much bigger than the room. Louis draped his canvases over a support and manipulated the paint so that it ran down the canvas in veils or stripes, sometimes touching or overlapping, sometimes separate. Another painting of the following year, Nexus II 1960, marks, as the title suggests, a connection or link, in this case the transition between his two major series, Veils and Unfurled.[4] The earlier, multicoloured central waves of paint of Dalet zayin become divided in Nexus II into two plain fields of colour pushed to the sides or, indeed, divided at centre.
Louis expressed little interest in the titles of his works, at least from 1954 onwards. The paintings—he produced 600 in the last eight years of his short life—were only given titles when it became necessary, for example when a work left the studio for an exhibition.[5] Most were therefore named posthumously. After his sudden and premature death in 1962, the Veils were titled with transliterations of names of the letters of the Hebrew alphabet, with the paintings titled arbitrarily, in order of being stretched. The title Dalet zayin combines the fourth and seventh letters of the Hebrew alphabet. In the decades following, Louis' distinctive staining style, his blurred arcs and stripes would be transformed into rigorous angles by the Minimalist artists.
Michael Lloyd and Michael Desmond[6]
---
[1] Morris Louis destroyed more than 300 unsatisfactory earlier works; see Diane Upright Headley, Morris Louis: the complete paintings; a catalogue raisonne, Abrams, New York, 1985, pp 49–58; see also http://morrislouis.org/morrislouis/page/technique_of_morris_louis, accessed 15 February 2018.
[2] Diane Upright Headley has dated the beginning of the second Veils series on the basis of a letter from Louis to Greenberg, which mentions that a Veil painting had been shown to a potential client in the spring of 1958. As this painting, Untitled 1958 (collection Mrs H Gates Lloyd, Haverford, Pennsylvania) is a fully developed work, it is likely that it was preceded by earlier trials; see Diane Upright Headley, 'In addition to the veils', Art in America, vol 66, no 1, January–February 1978, pp 84–94, cf p 88.
[3] The extreme thinning of paint has been estimated to reach a ratio of 28 or 29 parts of turpentine and resin to one of paint; Upright Headley, Morris Louis, p 58, n 9.
[4] Nexus II 1960, National Gallery of Australia, Bequest of Marcella Louis Brenner, the artist's widow, 2010.
[5] Even in the case of those works titled for exhibition, it seems most of the titles were suggested by Greenberg; see Upright Headley, Morris Louis, p 37. The generic title Veils was coined by William Rubin: letter to the editor, Artforum, vol 9, no 7, March 1971, p 78.
[6] Adapted and updated from European and American paintings and sculptures 1870–1970 in the Australian National Gallery, Australian National Gallery, Canberra, 1992, pp 300–2, by Steven Tonkin and Christine Dixon.
This is one of a group of paintings begun in 1954, known as Veils, and characterised by overlapping, superimposed layers of thin colours on unprimed canvas. Louis was inspired by Helen Frankenthaler's soak-stained paintings, and developed this technique for which he is best known. One of the leading Colour–field painters, Louis abandoned suggestions of figuration to focus instead on tonal relations and the expressive power of large areas of colour.