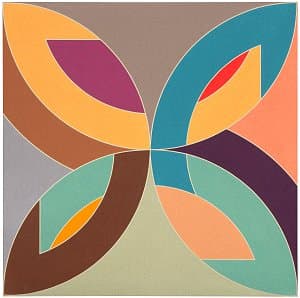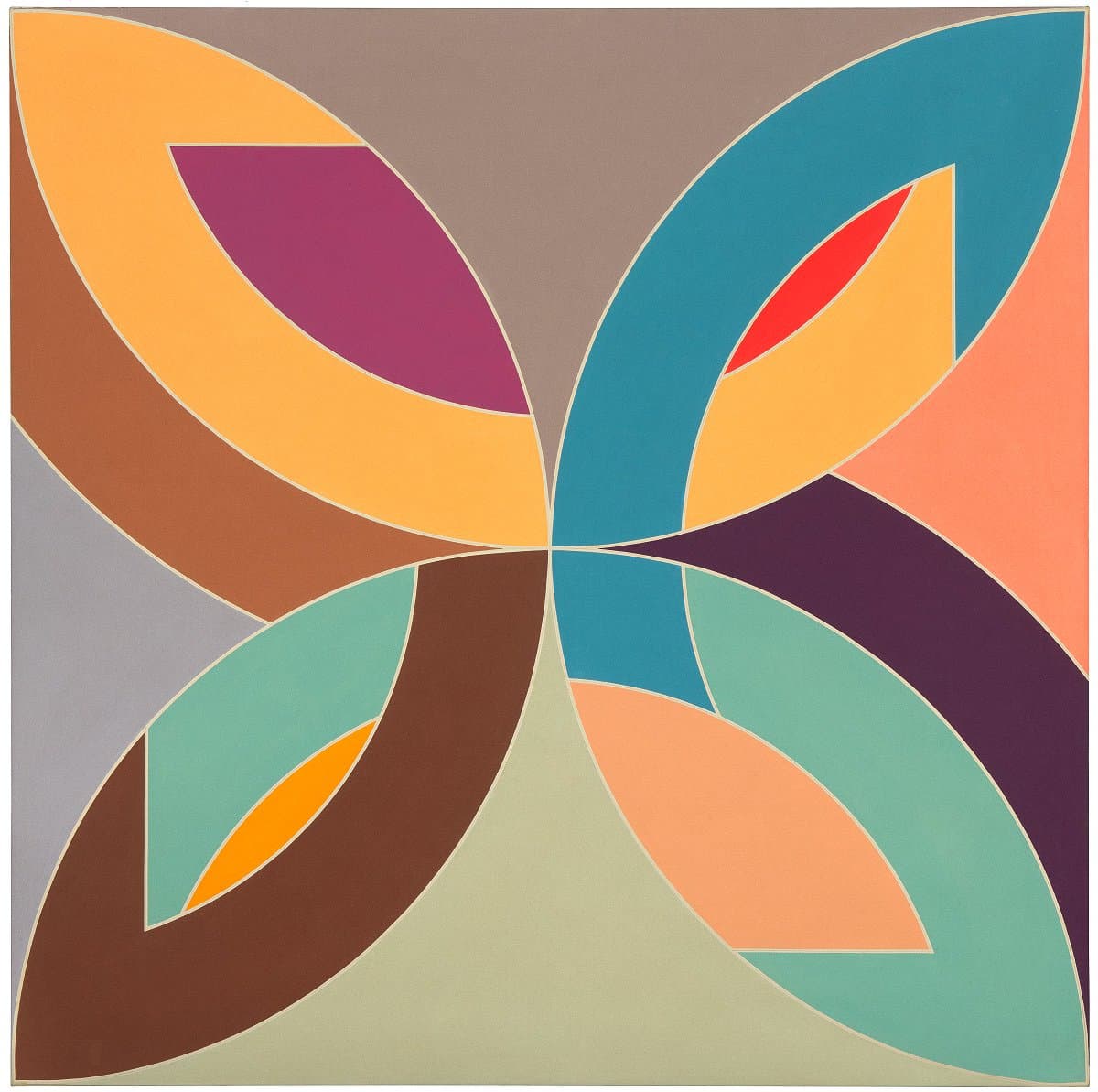 Frank Stella
Learn more
Flin Flon 1970
© Frank Stella. ARS/Copyright Agency Purchased through the NGA Foundation with the assistance of Terrey and Anne Arcus and Penelope and Harry Seidler 2002
More detail | Permalink
Like many young artists in postwar America, Frank Stella was initially smitten with Abstract Expressionism. Unlike other young artists, though, he achieved almost instant notoriety soon after graduating when, in 1959, he astonished the art world with the sombre, pure forms of his Black paintings. Departing from the strict rectilinear compositions of these famous works, in Flin Flon 1970 Stella explored the lyrical possibilities of circular form and luminous colour while retaining the control and austerity of his earlier work.
Flin Flon is a 2.7-metre-square canvas painted in polymer and fluorescent paint. It is part of the Flin Flon series of paintings, named after the Canadian town of Flin Flon in Manitoba. The related Saskatoon paintings are named after the Saskatchewan city across the provincial border from Flin Flon. These works were produced while Stella was teaching at the Emma Lake workshop at the University of Saskatchewan, Regina. At the time, Stella had been working on the shaped canvases of his closely-related Protractor series but, as he had no access to the specially produced supports while in Canada, he modified the format to fit onto a square canvas.
The composition is broadly divided into four semicircular arcs that form a geometric flower motif. The vaulting arcs and related bands are based on the semicircular outline of a protractor and are interlaced in such a way that the distinction between foreground and background begins to break down. The effect is to create a perplexing variety of coloured formations that seem to evolve continually before the viewer's eyes. Robert Rosenblum has written of this group of works:
Like clover leaf intersections contracted within the frame of a pictorial kaleidoscope, these restless arcs strain their boundaries, exchanging positions in depth, brusquely switching roles of visual priority, pressing inward and outward, forward and backward for completion of their fragmentary shapes and abruptly interrupted energies.[1]
The artist achieved this visual complexity within a composition that is perfectly integrated as an aesthetic whole.
Stella drew on a number of different sources in creating this painting. He was deeply influenced at the time by his study of Islamic art, having travelled to the Middle East in 1963. Other sources for Flin Flon can be traced to the artist's interest in Hiberno-Saxon illumination. In an early essay written while at Princeton, Stella compared Jackson Pollock's looping drip patterns to the interweaving motifs in these illustrated manuscripts from the seventh and eighth centuries, and Rosenblum has explicitly compared this period of Stella's work to what he calls the 'expansive and open proliferations' of the illuminated manuscript Book of Kells.[2]
Stella himself has cited the work of Henri Matisse in relation to this period of his work. In 1970 he commented: 'I would like to combine the abandon and indulgence of Matisse's Dance with the overall strength and sheer formal inspiration of a picture like his Moroccans.'[3] The comparison between Flin Flon and Matisse is compelling. As in the work of the French painter, the colour of Stella's work is rich and sumptuous, there is a strong ornamental motif structuring the composition, and the arabesque lines convey a dynamic sense of movement.
Anthony White
---
[1] Robert Rosenblum, Frank Stella, Penguin New Art Series no 1, Penguin Books, Harmondsworth, 1971, p 51.
[2] As above, pp 48–9.
[3] Quoted in William S Rubin, Frank Stella, Museum of Modern Art, New York, 1970, p 149.
Flin Flon is composed of interlocking, semicircular arcs that form a flower-like motif reminiscent of Celtic knotwork. In this large, square-format canvas Stella's seemingly simple geometric and colour-rich formations create a perplexing effect where the forms seem to evolve continually. In other works of the period the artist extends the motif into a second or
even third module, rotating it to create disruptions to the pattern, the work taking on mural-like proportions.