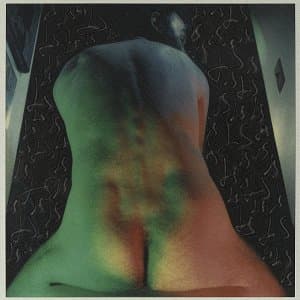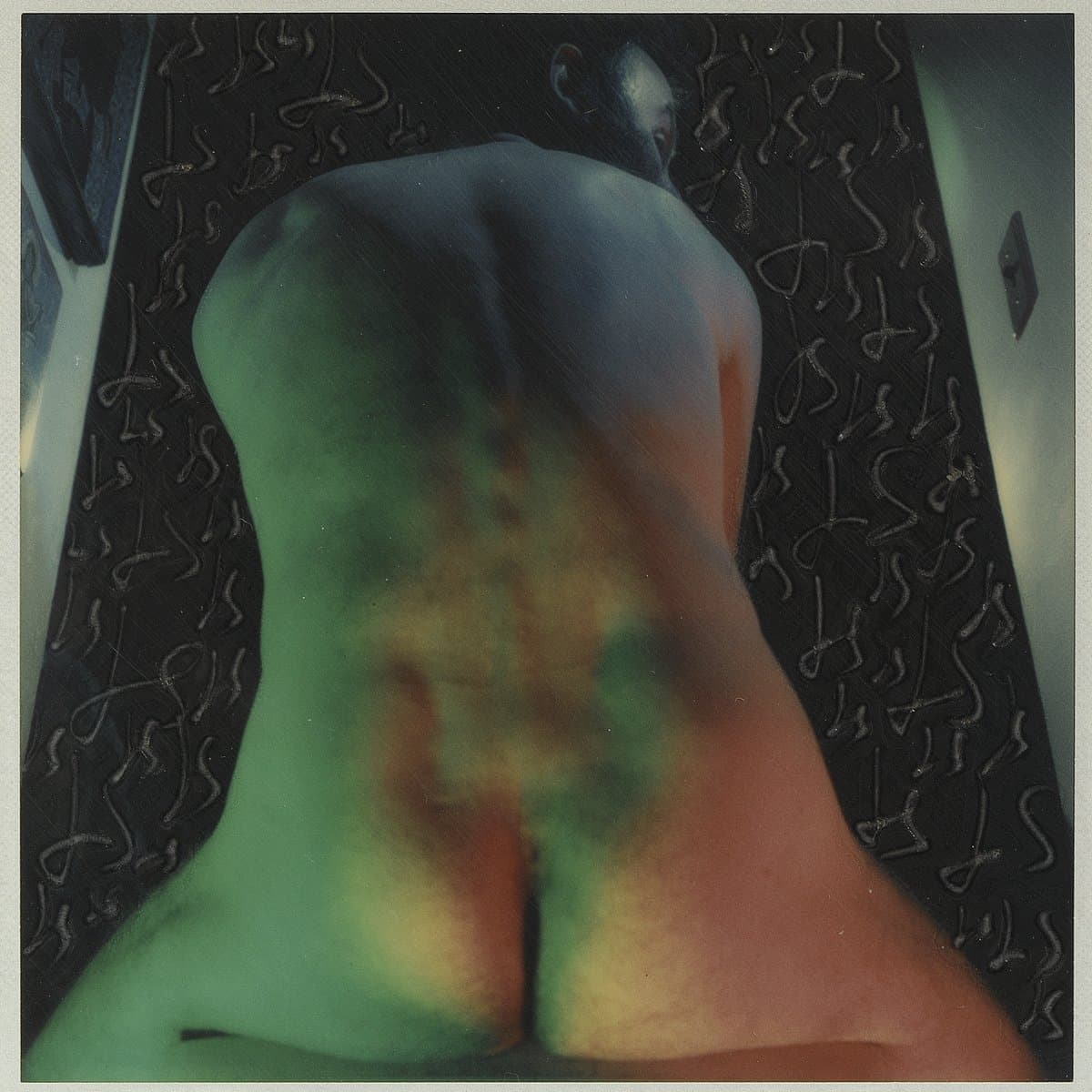 Lucas Samaras
Learn more
Photo-transformation 3/3/74 1974
© Lucas Samaras, Courtesy Pace Wildenstein Purchased 1975
More detail | Permalink
In 1973, New York based Lucas Samaras, along with a number of other artists, was given a newly released SX-70 camera by an employee of the Polaroid Corporation, John Holmes. The artists were to experiment with their new toy and make work to be exhibited at Light Gallery in New York. The gift fired Samaras' imagination. He was hooked by the immediacy of the process; only seconds elapsed between him as subject and the release from the camera of an image of himself as object. It set off Photo-transformations, a series he worked on over the next three years, which became his most recognised work.
Samaras had experimented with Polaroid cameras during the 1960s, when he brought photography into his practice as a sculptor, painter and performance artist. He photographed himself, often camouflaged and hiding his body behind a series of dots and lines painted with ink. However, the new camera opened up expanded possibilities. Polaroids consist of a semi-liquid chemical emulsion held within a plastic envelope; the image appears as the chemistry develops. With the SX-70 it was possible, during this brief window of less than a minute as the image came into existence, to manipulate the photographic emulsion with a finger or a tool. In an extremely direct and physical way Samaras was able to intervene and play with the image.
The core of Samaras' practice involves an exploration of the malleability and heightened expressive potential of his own physical form as a visible manifestation of his mental state. He has referred to his project as 'creative psychodrama'.[1] The tiny format of the Photo-transformations seems almost unable to contain the energy within them, as Samaras' body is distorted at times, painted with psychedelic coloured lights, and at others dissolved, overwhelmed by pattern—lines of energy pulsate from the form of his mouth and eyes: the body, it is often noted, metamorphoses into something monstrous and alien, almost demonic.[2] His interests are a part of a wider exploration in the 1970s of the transformational possibilities of the body—parallels of Samaras' experiments at this time can be found in the work of Vito Acconci and Bruce Nauman in the United States, or Arnulf Rainer in Europe.
For Samaras there was no formal separation between art and life and the Photo-transformations make this plain. His almost obsessive drive to examine his own existence and the anxiety that pervades the work undoubtedly reflects his own biographical circumstances—a disrupted and at times horrific childhood in war-torn Greece before migrating to New Jersey in 1948. In interviews he has confessed to always being subject to feelings of alienation and an intense almost mystical sense of being different from everyone else.[3] His work is an impassioned investigation into what it means to be alive. As he has stated: 'I talk about others when I'm talking about myself.'[4]
Anne O'Hehir
---
[1] Quoted in Moa Goysdotter, Impure vision: American staged art photography of the 1970s, Nordic Academic Press, Lund, 2013, p 90.
[2] This interpretation is put forward, for example, by Arnold Glimcher in the catalogue, Lucas Samaras Photo-transformations, The Pace Gallery, New York, 1974, np.
[3] Sue Taylor, 'From tortured youth to enchanted sage', Art in America, 92:8, September 2004, p 114.
[4] Quoted in Peter Weiermair 'Introduction', Lucas Samaras, Photos Polaroid Photographs, 1969–1983, Musée National d'Art Moderne, Centre Georges Pompidou, Paris, 1983, p 4.