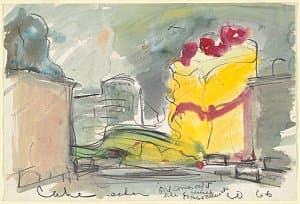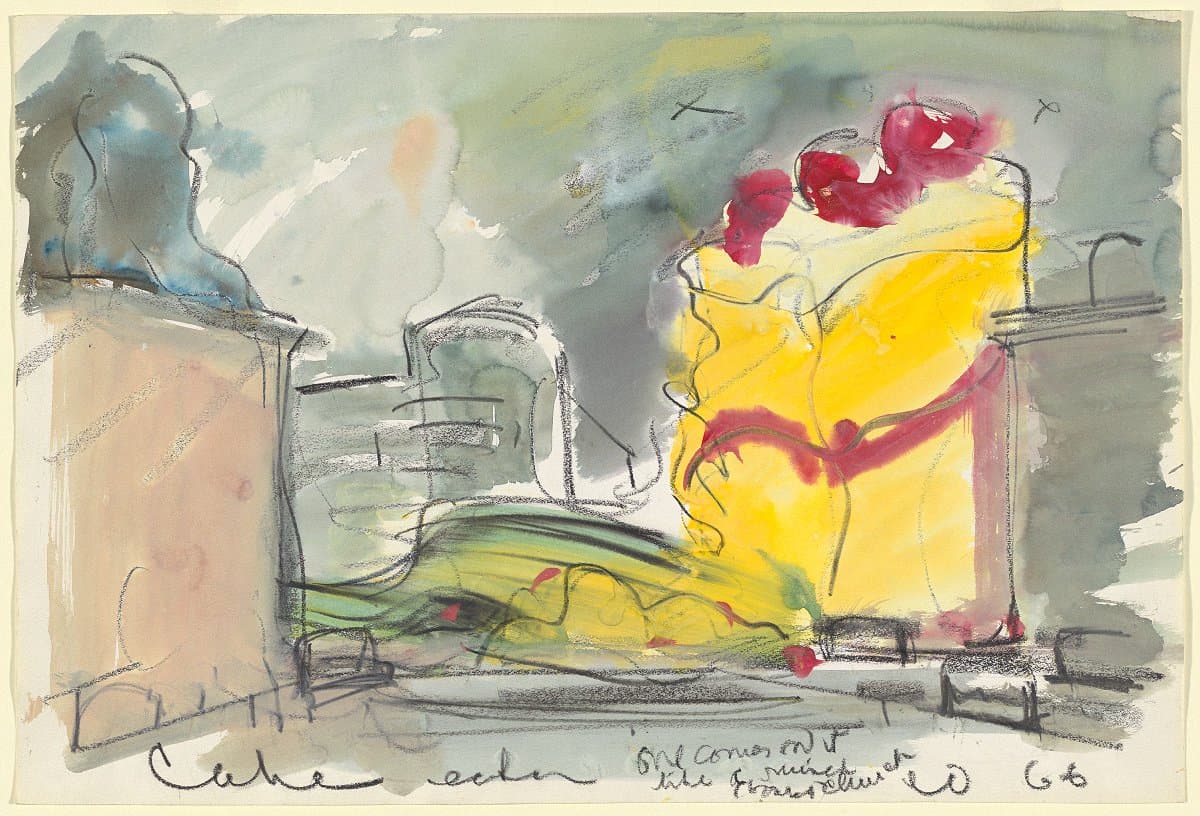 Claes Oldenburg
Learn more
Proposed colossal monument for Piccadilly Circus, London: Fork cutting slice of cake 1966
© Claes Oldenburg and Coosje Van Bruggen Purchased 1983
More detail | Permalink
In 1965 Claes Oldenburg began designing the first of his public monuments, which essentially convert ordinary objects to a huge scale, as in Proposed colossal monument for Piccadilly Circus, London: Fork cutting slice of cake 1966. Unlike the actual intersection in London's West End—which at the time was alive with neon signs in the manner of Times Square in New York—the only flash of colour in the drawing is the cake, a looming mass of jam-filled Victoria sponge towering over grey buildings and completely blocking one approach. A massive fork fills another street, downturned, about to scoop away the load of cake it has sheared off. Creating havoc with his proposed public monuments appears to have tickled Oldenburg; his sombre-sounding memorial titled Proposed monument for the intersection of Canal Street and Broadway, N.Y.C. -- Block of concrete with the names of war heroes 1965 is in fact a colossal multi-story traffic impediment that entirely fills the junction.[i] The gravitas implied by his use of the term 'monument' is upended by the absurdity of Oldenburg's inflated subjects. The artist again honoured Piccadilly Circus the following year by a proposal for a cluster of immense lipsticks.[ii]
Bronwyn Campbell, Brooke Babington and Emilie Owens
---
[i] Museum of Modern Art, New York, at https://www.moma.org/collection/works/86957, accessed 5 April 2018.
[ii] Lipsticks in Piccadilly Circus, London 1966, Tate, London, at http://www.tate.org.uk/art/artworks/oldenburg-lipsticks-in-piccadilly-circus-london-t01694, accessed 5 April 2018.
In 1965 Claes Oldenburg began designing the first of his public monuments, which essentially convert ordinary objects to a huge scale, as in Proposed colossal monument for Piccadilly Circus, London: Fork cutting slice of cake 1966. Unlike the actual intersection in London's West End—which at the time was alive with neon signs in the manner of Times Square in New York—the only flash of colour in the drawing is the cake, a looming mass of jam-filled Victoria sponge towering over grey buildings and completely blocking one approach. A massive fork fills another street, downturned, about to scoop away the load of cake it has sheared off. Creating havoc with his proposed public monuments appears to have tickled Oldenburg; his sombre-sounding memorial titled Proposed monument for the intersection of Canal Street and Broadway, N.Y.C. -- Block of concrete with the names of war heroes 1965 is in fact a colossal multi-story traffic impediment that entirely fills the junction.